Old Gallery
The preserved gallery from the previous incarnation of Whirlow Wheelers' website...
Petit Depart, 2018
Victoria and Pete took what they described as 'a gentle pootle' round North Yorkshire. They must have been feeling very fit to smile like that while going uphill!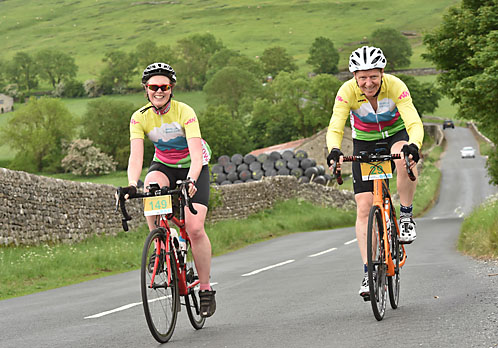 Secret Training
Those of you with long memories may remember a photo-call for evidence of the secret training activities of one Hampton, B. Eventually we got it, courtesy of Google Street View.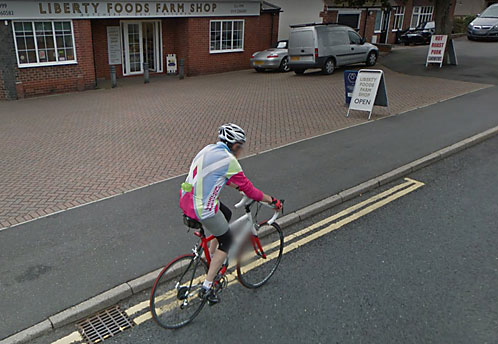 Unfortunately Street View has been updated and Brian no longer appears on live Google Maps, but he's preserved for all time here.
Mallorca Bunch Sprint, 2018
This bunch of renegades appears to have been caught outside a bar rather than on their bikes - which probably sums up the week! Weather looks nice tho.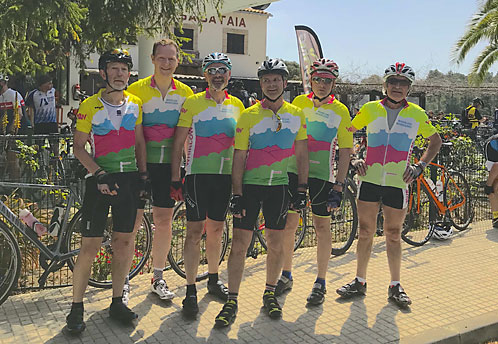 PB at the Lincoln GP, 2017
Not 'personal best' but Peter Billington in the Lincoln GP Sportive - on Michaelgate after 98 miles (so he says).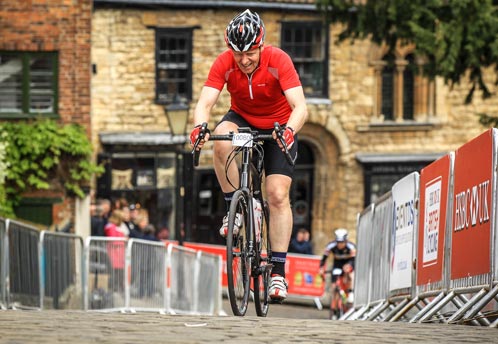 A time trial at Hatfield, 2016
...or so we're told.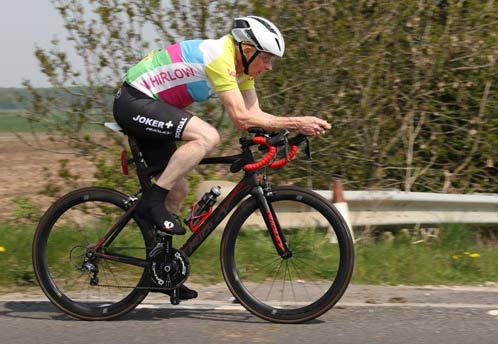 We don't see Gordon's face quite this shade of red on club runs so maybe he really was trying. A big 'well done' for that - and watch out for that pump in yer spokes!
Le Petit Depart, 1st June 2014
A number of brave souls entered this 80 mile sportive taking in part o't'1st stage o't'Tour in t'Yorkshire Dales. Some even turned up and started and all who did so finished. Well done to all - even those disqualified from the intra-club event for not riding in uniform!
Below are the times of our riders...
Sportive Ride, 80m
Posn
Name
Start Time
Elapsed Time
Avg Speed

108 / 431

Rick Harper

8:08:23 *

5:27:09

22.38km/hr

109

Mike Teare

8:08:19 *

5:27:13

22.37km/hr

117

Ray Stocker

8:08:20

5:29:21

22.23km/hr

218

Andy Wallace

8:08:23

6:02:29

20.20km/hr

292

Eric Carroll

8:49:51

6:29:22

18.80km/hr

293

Neil Pritchard

8:49:49

6:29:23

18.80km/hr

294

Gordon Wordsworth

8:49:49

6:29:23

18.80km/hr

295

Paul Hough

8:49:44

6:29:27

18.80km/hr

369

Victoria Hufton

8:08:25

6:55:02

17.64km/hr

Recreational Ride, 33m

294 / 336

Jeanette Teare

9:07:13

4:13:19

11.85km/hr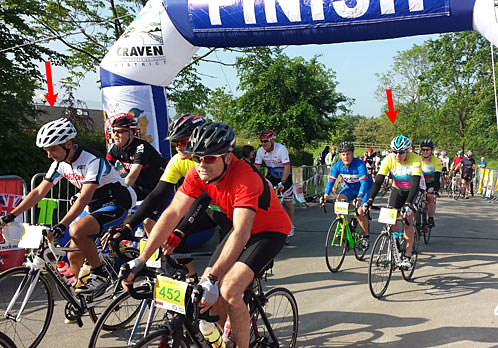 * Note the relative positions of Harper R and Teare M, giving lie to the timing from the official result above. Clear evidence the that time-keeperz wuz got-at!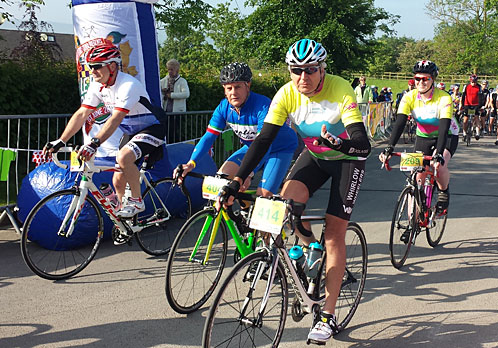 No photographs till I've sucked me gut in if you don't mind!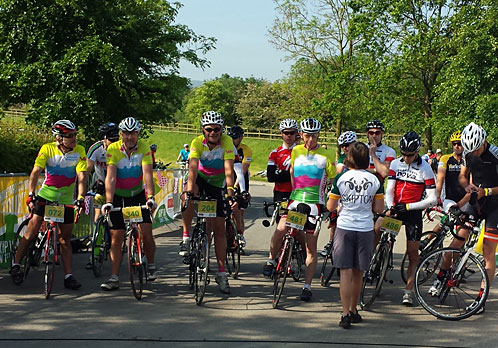 Rider briefing - 'this is not a race' - hah hah! (Note the lack of more starters behind - this lot were so busy eating breakfast they nearly missed the start!)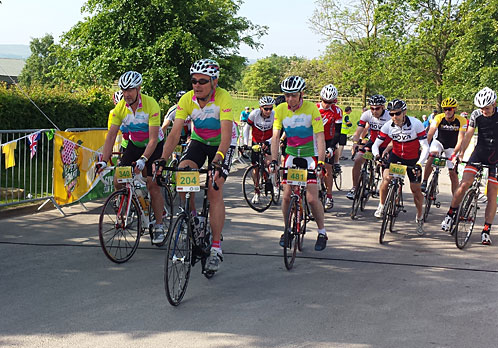 A breakaway forms right from the off - determined to beat the cut-off time.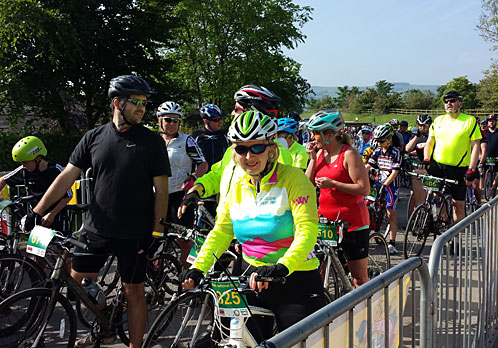 Whirlows were also represented in the women, children and gret lumps event, where prizes were awarded for not falling off before the first roundabout.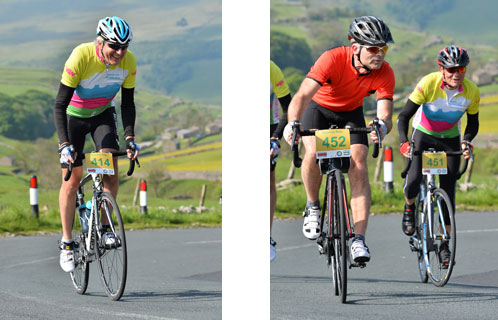 Action on the Kidstones climb. The smiles turned back to grimaces once past the camera!
Monsal Hill Climb 2013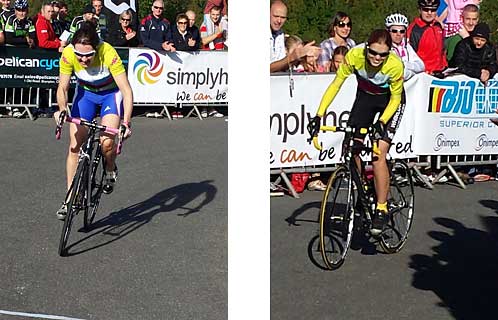 Two Whirlow jerseys were seen on the Monsal Hill Climb this year: Liz Bullivant (above left) and Nik Holloway (above right). Naturally us blokes were there to cheer them on. (Well you can't expect US to ride a hill climb FGS.)
In fact one 'us blokes' DID ride but in Shefrec colours. Alan will definitely have to mend his own punctures from now on!
The times that mattered...
Alan Holloway
1:51.1
Liz Bullivant
2.11.1
Nik Holloway
3:31.7
and for comparison - the winner...
Jack Pullar (Madison Genesis)
1:19.9
So despite the Whirlow onslaught Malcolm Elliot's 1:14 record still stands!
Helmet Hair?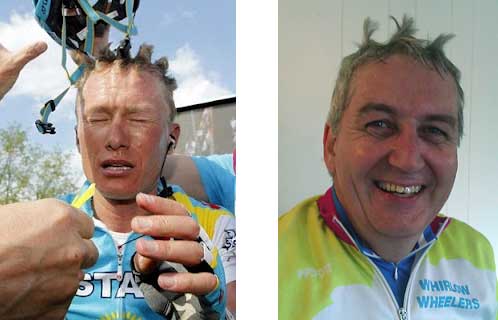 We may not stay with with the pros on the bike but when the lids come off we're up there with the best. From the furrows in his brow as well as his hair Vinokourov clearly spent a lot longer 'under the drier' than our own intrepid style guru!
King of the Mountains?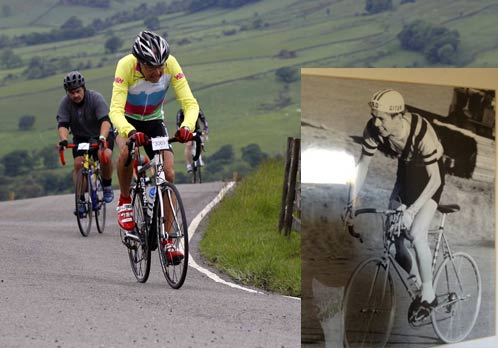 Il Challisimo Scarpe Rosse, or 'Big Red Riding Shoes' in action over Mam Nick in a recent sportive. The term, sportive, it's rumoured, refers to the riders' chances of making it home with legs and lungs intact. (Inset: Il Challisimo in the days when he could really climb - tho we only have his word this is actually him on the bike!)
A day in the life...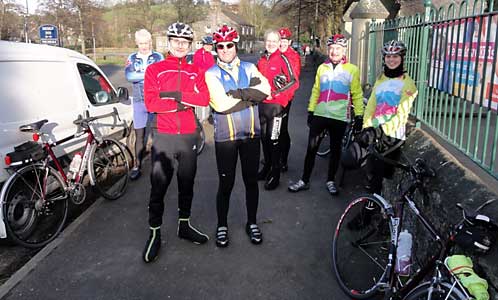 A club run start at Calver. Note the two poseurs in the foreground... the only time either has been seen at the front for years!
High Peak Road Race 2012
Here's a major change of direction for WW with a member not only being ALLOWED to race but, rumour has it, being coerced into it - possibly by the threat of he and Nikki having to mend their own punctures in future if he didn't!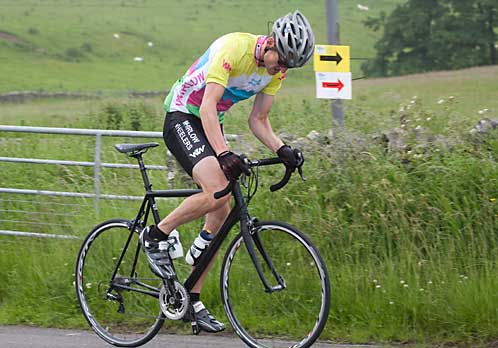 What's this...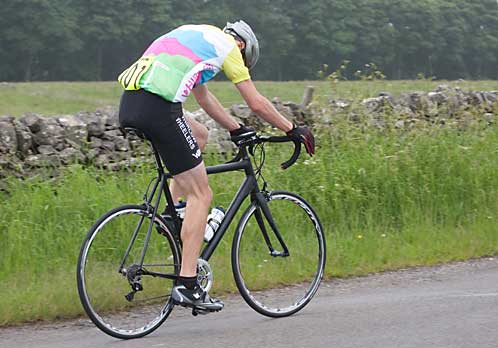 ...a number on a Whirlow jersey???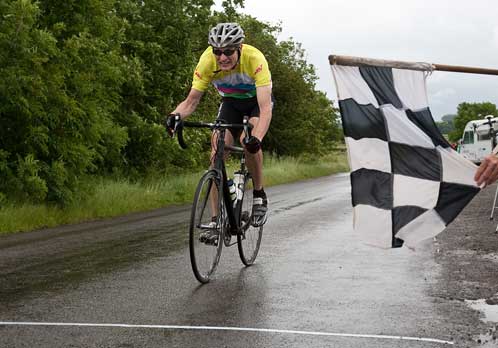 Crossing the finish line - and no, it wasn't staged!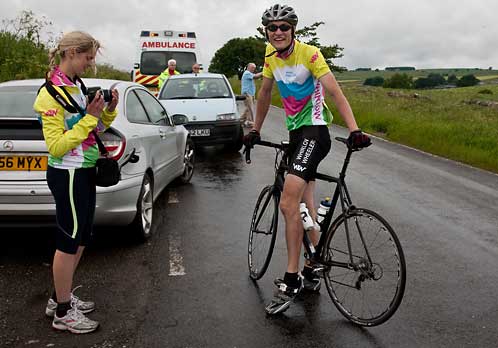 The ambulance was there in case any of the older members had a funny turn.
And now a little history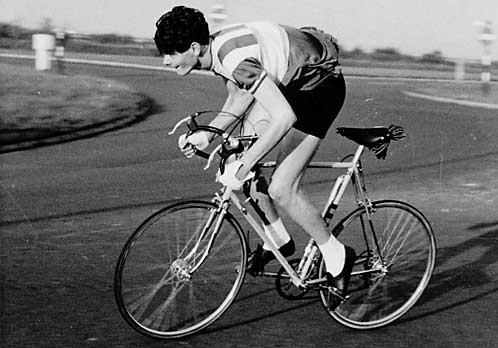 Here's a thing... a photograph of Huffy out of the saddle and going for it at Blythe Nornay roundabout. We're not sure of the exact date but the original wet collodion negative gives us a clue. Photo supplied by an anonymous club member (who wishes to remain anonymous for his own safety).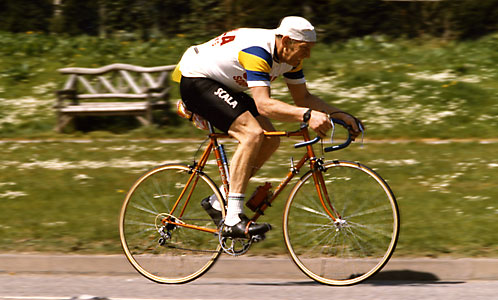 Roy Hobson, our oldest member, who sadly died in September 2017, pictured in the Doncaster-Cleethorpes event before he joined Whirlow Wheelers and riding in the strip of the Scala, once the club of Tom Simpson.
Roy, a sub hour 25 miler, had to abandon riding some years ago due to ill health, but always supported our club social events usually helped by his daughter Dawn or his youngest son Nathan. He is most famously remembered by those of us who were in the Sheffield Don Wheelers for organising a 120 mile training ride in February to Edwinstowe Via Gunthorpe Bridge. Leicester, Melton Mowbray, Grantham and Newark. It started snowing in Grantham and most of us were 18 or younger, but with Roy there you always knew you would get back, alive or dead. A great guy and a classy rider